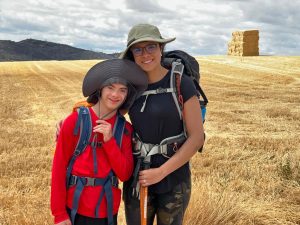 This fall, we are welcoming a new MD-PhD student to our lab, Monica Duran! Originally from Puerto Rico, she moved to Madison, WI in 2020 for the start of the MD-PhD program at UW. She's completed 3 years of medical school and is now starting her PhD in the Neuroscience Training Program (NTP) and the Movement and Brain Development Lab.
Monica's interest in neurodevelopmental disabilities started back in 2007, when she found out that her youngest brother, Jose, was born with Down syndrome. He has had a profound impact on her life and has been a major motivation in pursuing a career as a physician-scientist specializing in neurodevelopmental disabilities and other neurological conditions.
Her previous work focused on using human-derived induced pluripotent stem cells (iPSCs) to understand important cellular and molecular processes underlying neurodevelopment in Down syndrome. More recently, after doing additional career and scientific exploration, she decided to change paths and go into the exciting world of neuroimaging. For her PhD work, she's interested in applying novel neuroimaging techniques, behavioral measures, and (potentially) molecular tools to understand the relationship between ASD features and brain structure/development. Her long-term goal is that by better understanding conditions like autism, she can contribute to the design of tools and interventions that can help neuro-diverse individuals achieve their greatest/healthiest potential and ultimately create a world that is more inclusive and equitable.
She's excited to continue my career as a neuroscientist and future child neurologist, and we're so excited to have her in our lab!